What do you do when you lose a tuning knob on your radio? Replace it with a bottle cap, of course!
One of the many radios that RCA sold in 1952 was the Townley tabletop radio, offered in maroon, red, ivory, and green. This set was a standard 8-tube AM/FM radio, and it had inbuilt AM loop and FM line cord antennas, with a phono jack in the back to plug in a record player attachment. This radio proved incredibly popular. Though I have not found any information about its price, it was clearly cheap enough to be bought in major quantities. It even made it into 1953's edition of Most-Often-Needed Radio Diagrams and Servicing Information, a publication that distinguished itself from the slew of other similar one by only offering schematics for the most common electronics produced that year.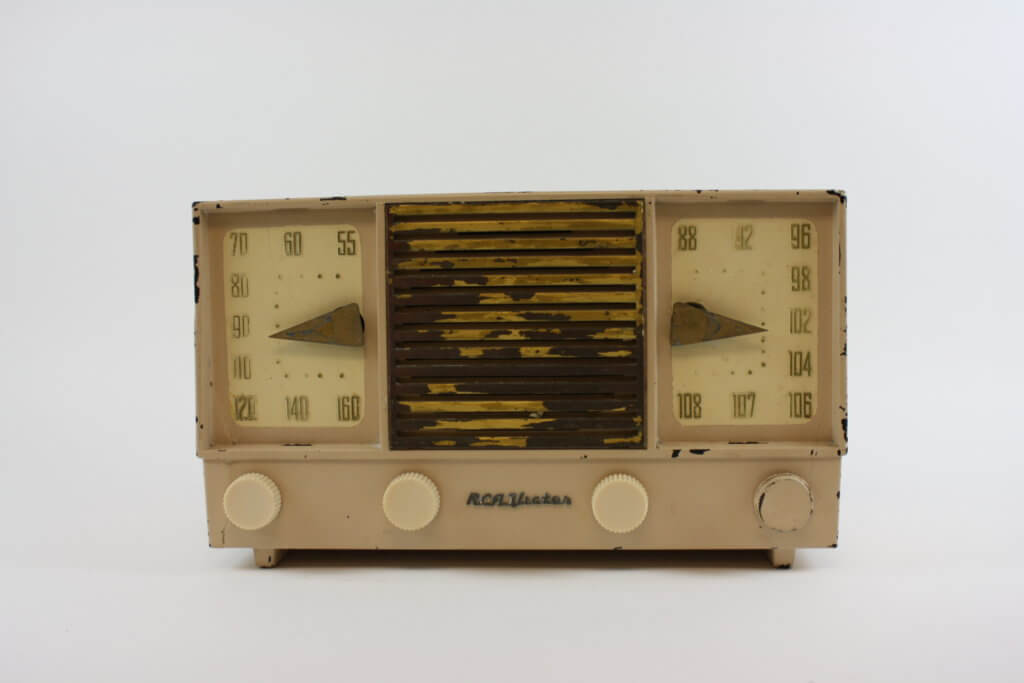 This particular Townley radio (model 2-XF-932, serial no. U005789) had a rough life, a fact that is made quite apparent if you look at other extant Townley radios. Its paint is peeling. Decorative caps that covered the tuning dials have long since fallen off. One of the tuning knobs fell off and was replaced with a common bottle cap. The radio cabinet has been painted over at least twice—the model number indicates that it was originally ivory-colored, but at some point in its life, it was painted over in a dark brown—perhaps to better fit the aesthetics of the home in which it was placed. However, some time after that, the radio was dropped, and the plastic cabinet broke. The broken pieces were glued back together, the glue sanded down, and the cabinet was painted over once again, now back to its original ivory. Its repair history did not end there, however. After it was donated to the collection in 2019 by Tom Tonon, it was repaired and put back into working order by Sarnoff volunteer Jonathan Allen.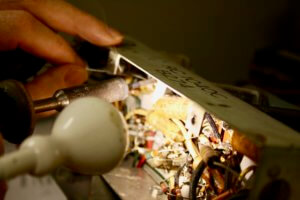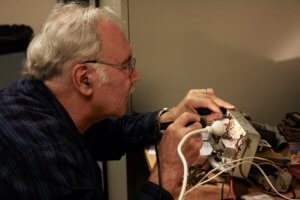 Overall, this radio is emblematic of the relationships that mid-twentieth century Americans had with their technology. If it broke and you could fix it, you fixed it!
Text by Florencia Pierri