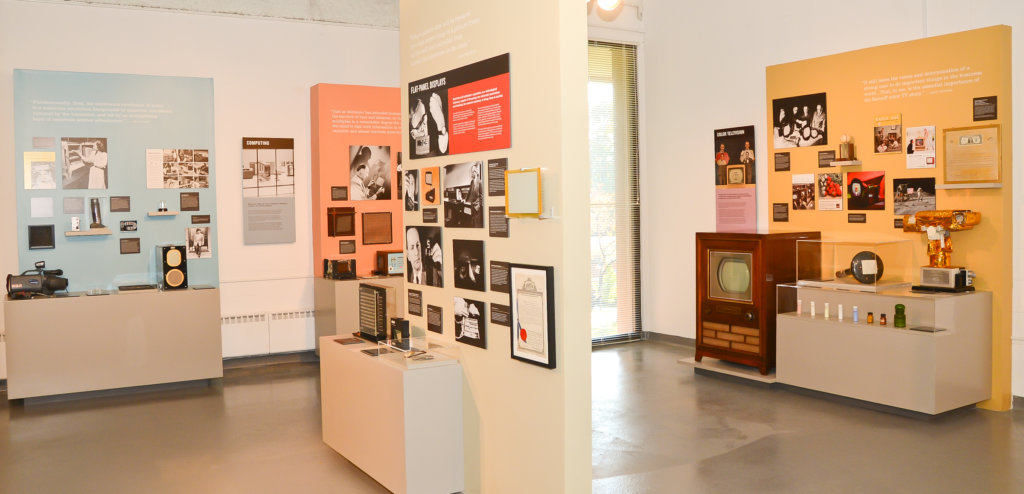 Innovations that Changed the World: An Introduction to the David Sarnoff Collection is a long-term exhibition that explores the state's pioneering contributions to the electronics industry.  The exhibition traces the history of telecommunications from the invention of radio to the dawn of information age using objects drawn from TCNJ's David Sarnoff Collection.
Innovations That Changed the World allows TCNJ students and faculty, visitors, researchers, and local school groups to engage with over eighty artifacts from the Sarnoff Collection, as well as dozens of vintage photographs, letters, and advertisements.
In addition to a biographical display highlighting David Sarnoff's remarkable rise from impoverished immigrant to industrial innovator, the exhibition is divided into nine sections, each highlighting a different technology developed by RCA—radio, the phonograph, black-and-white television, color television, electron microscopy, computing, integrated circuits, home video, and flat panel displays. Visitors will not only learn about the scientific principles behind these technologies but also the social and historical contexts into which they were introduced.
The exhibition is open to the public free of charge on Wednesdays from 1:00 to 5:00, on Sundays from 1:00 to 3:00, and by appointment for groups and school visits. The exhibition is located on the second floor of Roscoe West Hall. For a map with parking and building locations, please click here. For more information or questions, contact sarnoff@tcnj.edu.