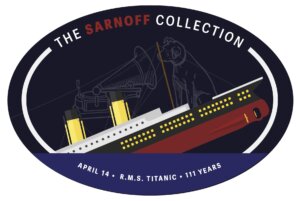 R.M.S. Titanic at the Sarnoff Collection
The Sarnoff Collection at TCNJ
April 14 2023, 4–6 pm
FREE and open to the public!
Join us to commemorate the sinking of the Titanic, and to explore the (unexpected) connections between the Sarnoff Collection and the events of 111 years ago.
Titanic and Sarnoff? Long story short, David Sarnoff, the namesake of the collection, was a telegraph operator who participated in communications in the aftermath of the ship's loss. Radio and telegraphy were brand new in 1912 and the sinking and rescue (and loss of life) fed into these media's rapid rise. Sarnoff and his companies RCA and NBC became major forces in radio, television, and electronics research, and he frequently referred back to this early experience. We have a telegraph from his private collection; we have many speeches, awards, and other objects and documents that speak to Sarnoff's abiding interest in this crucial moment in history.
SO PLEASE JOIN US on Friday April 14 as we mark the loss of the ship and so many lives with a selection of songs from the White Star Line songbook played live by TCNJ student musicians, an interactive demonstration of a volunteer-built telegraphy system, Titanic-themed mocktails, and conversation about communication and culture. (MUCH MORE INFORMATION BELOW THE POSTER!)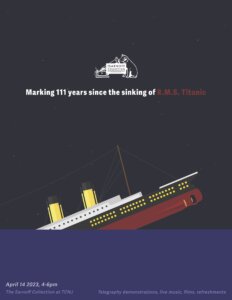 There's SO much to be said about the sinking of the Titanic full stop. The event was a terrible, terrible tragedy; it comprised a horrible monument to arrogance and its outcomes; it was — and all Hollywood contrivances to the contrary, remains — a harsh signifier of the privileges of class and money; it also (if this isn't too much of a tone shift) represents a crucial inflection point in the history of electronic media.
Sarnoff Collection namesake David Sarnoff felt these resonances intuitively: his participation in the radio-telegraphic communications in the aftermath of the ship's loss is undeniable, but so is his subsequent enhancement and amplification of that role as part of his decades'-long project to establish — and then take full corporate advantage of — the importance of instantaneous global communication.
It's amusing but also revealing to review the apocryphal and conflicting tales — all traceable back to the man himself — of Sarnoff's supposed three-day non-stop stint at the top of the Wannamaker Building coordinating Titanic rescue activities, of a presidential order clearing the east coast airwaves of all but this one plucky telegrapher's transmissions, of Sarnoff's single-handed effort at a remote Nantucket telegraph shack performing much the same function, etc., etc. By 1915 — that is, by the time his versions of his role in the Titanic sinking began to shift — Sarnoff, still just a Marconi corporation manager, was already envisioning an idea of radio that went far beyond the utilitarian point-to-point model mapped out by his employer Marconi to include "broadcasting" to general listening audiences and vast consumer markets. Sarnoff's "Radio Music Box" memo of that year (or possibly 1916, or even 1920) outlines radio as a "household utility" in the very first sentence — Sarnoff was a lucid writer and compelling speaker — and offers up this technology as the means to create and dominate whole cultural categories. This memo was initially ignored: can we blame Sarnoff for leveraging his somewhat contingent connection to the Titanic sinking to keep his reputation current?
By the early 1920s, to simplify things quite crudely,** U.S. legislative and judicial decisions, as well as isolationist sentiments on this side of the Atlantic and vacillations in the investment/industrial climate on the other side, plus rapidly-emerging technological and market developments everywhere, combined to prompt the carving out of American companies — notably RCA aka Radio Corporation of America — from U.K.-based Marconi's Wireless Telegraphy Company and related European entities. Sarnoff rose to leadership positions at RCA and, eventually, the antitrust-settlement-separated NBC, partly on the strength of his ability to attract and inspire (and acquire entire other companies full of) innovators in science, technology, marketing, style, and musical and narrative talent. His mythmaking was essential to the maintenance of the "present-at-the-creation" image he used as a corporate asset.
Was there a personal or even psychological side to all this? It is pure speculation only, but perhaps the intensity of Sarnoff's drive to succeed, and, specifically, to supercede former mentor Guglielmo Marconi can be appreciated through the following ocean-going connection: Marconi possessed a yacht, Elettra, which he used for experiments and travel throughout the latter part of his long life; in the 1950s, Sarnoff commissioned a yacht fitted out for the same purposes, christened with the virtually identical name Electron.
**There is a host of additional and authoritative — or at least detailed! — information available to the curious.
Our friends at Infoage Science and History Center reminded us of the Radio Act of 1912, one of the immediate regulatory outcomes of the loss of the Titanic — with further market-creating and -defining legislative and executive acts to follow:
https://www.visitthecapitol.gov/artifact/s-6412-act-regulate-radio-communication-radio-act-1912-may-20-1912#:~:text=The%20Radio%20Act%20of%201912%20required%20all%20radio%20operators%20to,radio%20alert%20for%20distress%20signals.
Regarding the amplification of Sarnoff's involvement in Titanic communications, one of his obituary writers cops graciously to her mistakes in this excellent short piece:
http://www.mwotrc.com/rr2012_08/titanic.htm
David Sarnoff's "radio box memo":
https://earlyradiohistory.us/1916rmb.htm
Douglas Kerr's piece on Titanic wireless systems and protocols is just detailed enough for the curious non-expert without overwhelming that person with excess information:
http://dougkerr.net/Pumpkin/articles/Titanic_wireless.pdf
Bob Read's piece on the topic, written with the scale-model builder in mind, contains a tremendous amount of well-organized information:
http://www.titanic-cad-plans.com/wp-content/uploads/2021/12/Marconi-article-1.pdf
WARNING: Read's CAD Titanic plans — an amazing trove — occupied a certain curator for hours:
It seems like a bit of a cop-out but the Wikipedia articles on spark-gap telegraphy, the Marconi corporation, and even the Titanic are regularly policed by knowledgeable and enthusiastic people.
https://en.wikipedia.org/wiki/Spark-gap_transmitter
https://en.wikipedia.org/wiki/Marconi_Wireless_Telegraph_Company_of_America
https://en.wikipedia.org/wiki/Titanic
And our colleagues at the Hagley Library and Museum, a repository of much Sarnoff- and RCA-related documentation, note this group of materials among their many relevant holdings:
https://www.hagley.org/librarynews/sarnoff/titanic-connection