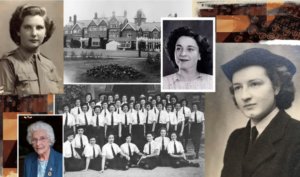 Sundays at the Sarnoff:
Unsung WWII Code Breakers and Y-Operator Heroines of Bletchley Park
Presentation by Joseph Jesson
Sunday, February 28 1:30pm
Free registration via zoom
Research into the German war communications and interception technology during WWII led to the discovery of many incredible heroines who literally shortened WWII by an estimated two years. .Roles included the interception of German encrypted wireless communication by Britain's many Y-stations, logged messages being delivered to Bletchley Park by teams of motorcycle logistics delivery riders,and other worked in the actual decoding or code-breaking huts 6 & 8..This presentation is dedicated to the over 8,000 women experts who changed the course of WWII and defeated the Nazi enemy.  As a member of the Radio Society of Great Britain (RSGB), Joseph had access to their 1941 archives and understood their role in hiring and training Bletchley Park experts.
---
Webinar Speakers: Joseph Jesson 
Joseph Jesson, is currently President and Chief Technology Officer of RFSigint Group, a wireless and patent consulting company in Hamilton Square, NJ. Joe has over 35 years of experience in engineering and technology management at Motorola, CNA, Oak, and Amoco/BP in Chicago and is a co-founder of  Asset Intelligence, a General Electric corporation. He was awarded the General Electric innovation prize, the Edison Prize in 2007. Joseph is currently Adjunct ECE Professor at TCNJ.and is IEEE Princeton Life Chair. Joseph was awarded over 15 patents and holds graduate degrees from DePaul University in Chicago.
---