How a duck became a scientific spokesman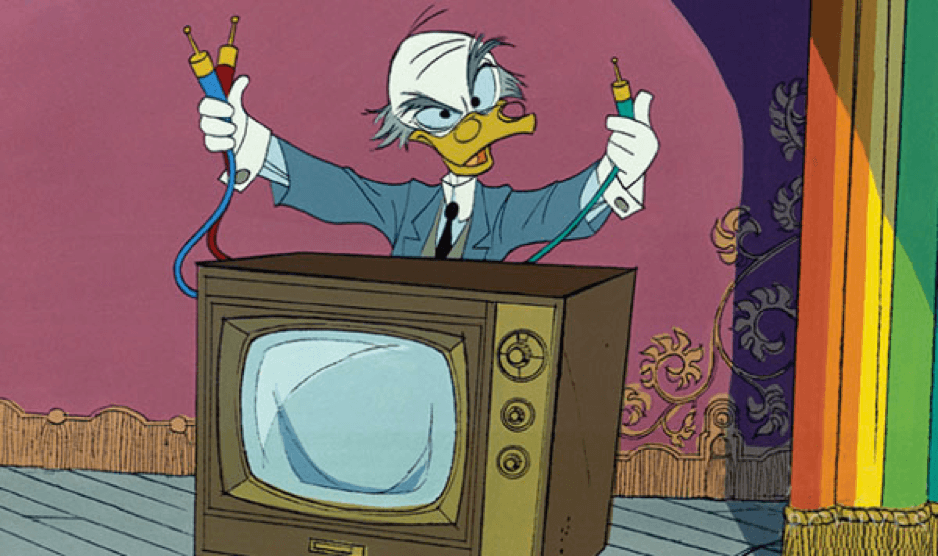 On September 24, 1961, ABC's popular 'Walt Disney Presents' program was set to be relaunched on NBC. Now dubbed, "Walt Disney's Wonderful World of Color," the series would feature a new set of exciting cartoons and live-action films for families – all in color! "This is a breakthrough that I have anticipated for years because I feel that color adds an all-important dimension for which we are thoroughly equipped," famed animator Walt Disney told Electronic Age in their Spring 1961 issue. "Planning our entrance into this broader field of television," he continued, "we had camera crews traveling extensively for many months photographing shows around the world. We hope to weave a magic carpet of color to include people, places, nature, music, dancing, cartoons, the human and the fantastic drama of the universe."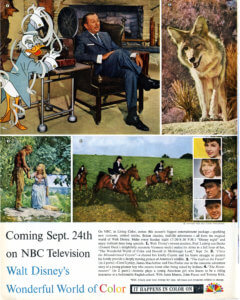 While most episodes would still be hosted by Walt Disney, the series would introduce viewers to a scientist, an internationally recognized expert on everything, who would help educate audiences about the science of color. The New York Times' television critic Val Adams acknowledged that Disney was taking a gamble introducing this new character to viewers. "The Professor is not scheduled to appear on the Disney program each week and his future in show business may depend on how well he does not," Val cautioned. Who was this new expert authority? None other than Ludwig Von Drake, the Austrian uncle of Donald Duck.
Although not as colorful as the noted NBC Peacock, Ludwig Von Drake was still an important avian for the RCA family. Appearing on the "Wonderful World of Color" once a week, Von Drake served as a spokesperson (spokesduck?) for the RCA brand as the company tried to convince consumers to purchase color television sets. The character was developed somewhere between the time that the studio had completed 101 Dalmatians and was starting development work on The Sword and the Stone. Bill Berg, the story master known for his educational Disney shorts, dreamed up the character. According to the basic character design, Von Drake was an older duck, sporting a green overcoat and old fashioned high collared shirt, with tufts of messy grey hair on his head."
Von Drake had a heavy Austrian accent, similar to the German accents of Disney's previous scientific collaborators, Wernher Von Braun and Heinz Haber. As German scientists who were well known for their research on manned spaceflight, Von Braun and Haber had worked on numerous television specials in the 1950s that centered on Disneyland's Tomorrowland ("Man in Space," "Man and the Moon," and "Mars and Beyond"). These telegenic scientists had each appeared onscreen as serious scientific authorities (Von Braun on the space films, Haber on "Our Friend the Atom"). One of the animators of Von Drake, Ward Kimble, recalled how Von Braun's onscreen persona had suited television. In an interview, Kimble remarked, "Von Braun had an imagination and a sense of humor…he also knew when to ease the tension with a gag." Perhaps Von Drake's animators had also drawn inspiration from Haber, who was credited as a writer on the premiere episode of "The Wonderful World of Color." In addition to his work with Disney, Haber was well-known as a television presenter and science writer in Germany.
But unlike Haber or Von Braun, Von Drake wasn't serious. He was very silly. In the first episode of "The Wonderful World of Color," Von Drake stumbles on stage and immediately tries to run from his spotlight – because he thinks that it's coming from an incoming motorcycle! As he sheepishly excuses his foolishness, he reaches for his glasses in his coat, forgetting that he's set them on top of his head! "Now to the subject!" he announces and then, helplessly, looks at the camera and mutters, "What is the subject, I got carried away with all…oh yes, COLOR!." Von Drake's ditzy professor brings to mid Fred MacMurray's characterization of a chemist in The Absentminded Professor. The popular film was released in the spring of 1961, several months before the first episode of "The Wonderful World of Color." Disney himself had based the character of the professor on a real life chemist, Hubert Alyea, who taught at Princeton University. (Coincidentally, not too far away from RCA's Princeton laboratories).
According to Floyd Norman, one of the lead animators at Disney Studios, most of the animators enjoyed working on the Von Drake character. As he recalled in an interview, " Sketching Professor Von Drake was one of the most fun jobs I've had at Disney Animation." Von Drake's voice was provided by the incredible Paul Frees, who provided voices of other Disney characters, as well as characters in shows like Rocky and Bullwinkle.
In that first episode, Von Drake tried to teach viewers about color theory – explaining, among other things, that if you added all the colors together, you'd get white light. If you added blue and yellow, Von Drake remarked as he stuck his fingers into different vats of paint, you'd get a green thumb! Von Drake directly urged his audience to buy color televisions. "This whole program is being seen in color – and that's a lie," he exclaims, "You know that's a lie! Because only the people with color tv sets is seeing it in color!"  At one point, using a chalkboard and a RCA styled television console, Von Drake gave a quick overview of how color is transmitted from a camera, over a receiver, and into a television set. "You want to know how color TV works," Drake quipped to an offscreen viewer, "It works very good!" Von Drake's antics and jokes carry the viewer through the first twenty minutes of the episode, before he 'hands' the hosting duties off to his nephew Donald Duck, who spends the rest of the episode wandering through a wonderland filled with mathematical and mythical creatures ("Donald Duck in Mathmagicland")
The absentminded professor won fans. Animator Floyd Norman noted that, "Professor Ludwig Von Drake was initially considered a 'one shot' but the zany character proved to be so popular he was brought back again and again as show host and resident expert on practically everything." He would appear on many episodes of "The Wonderful World of Disney," lecturing on subjects as diverse as space and personal fitness. RCA even developed a 'talking' Professor Ludwig Von Drake doll (complete with a 7 ½'' X 5'' tape cassette) that told fractured fairytales and sang silly songs. Later, in the 1980s and 1990s, Von Drake became the host of Disney's 'Sing-a-long' home videos. While his RCA roots have long been forgotten by Disney audiences, the character continues to appear in streaming series and video games as a beloved member of Donald Duck's extended family.
Text by Ingrid Ockert