Vinyl Videos: The Rise and Fall of the RCA Videodisc
On view through November, 2022
The RCA Videodisc system – along with the story of its creation, introduction, and impact on the RCA corporation – embodies the curious power and fragility of corporate innovation.
This exhibit uses objects, images, and documents from the Sarnoff archives along with first-hand and scholarly accounts of this product's development and demise to examine the complex relationships between basic research, business decision-making, and product development and marketing.
For much of the 20th century, RCA defined and dominated the fields of communication, information, and entertainment. RCA created products and provided the capital needed to manufacture and market those products and the highly-desirable content that drove sales of those products: record players and a vast catalog of music; radio and its multitude of broadcast programs; black and white and then color television and that medium's broad range of programs. Implicit in this success was the need to combine the next innovation with the next market niche and continue the cycle.
In 1964, company executives decided to focus on the pursuit of a commercially viable video playback. 1972, RCA announced that a product named Videodisc would be on the market the following year. However, that year and then several more years passed, as difficulties crept into the development process. Some problems were research-based or technical. Some were rooted in a poor understanding of the home user: early designs failed to account for damage from fingerprints, dust, and scratches. Other problems are best characterized as poor leadership followed by sub-optimal responses: some executives ignored the greater status afforded to researchers at the more theoretical end of the spectrum (and to managers in the greater New York/Princeton area as opposed to in Indiana and elsewhere in the mid-West).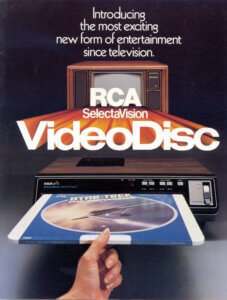 Research and test work continued through the mid and late 1970s. Variations to disc materials and design and in the approach to needle/cartridge materials, a plastic sleeve totally enclosing the disc, and simplified and smaller player design all contributed to a new line of devices and programs set to drive a new mutually-reinforcing category of sales that built on, rather than cannibalized, the market for televisions.
The Videodisc system was introduced in March 1981, promoted heavily for two years, sold poorly, and pulled from the market in 1984. RCA itself was sold to rival General Electric in 1987 in a deal that cost shareholders, workers, and pensioners billions in today's dollars. What went wrong? VHS videotape, introduced a crucial few months before Videodisc, offered a hard-to-define physical convenience, a lower sale price, and the availability of a rapidly increasing number of titles at a growing number of retail stores. As well, videotape allowed consumers to record programming to be played back at their convenience (a behavior unanticipated by RCA marketing research) – and it initiated a boom in renting, not selling, of content (another behavior RCA failed to envision).
RCA, at this key moment, was also struggling to adapt to an increasingly global business environment, grappling with its own capital and labor issues, and only slowly – too slowly, as it turned out – coming to terms with the impact its acquisition and subsequent sale of large corporate units unrelated to its core industries had on the long-term health of the organization.
---
Visiting the Sarnoff Collection
The Sarnoff Collection is free and open to the public. We are open:
Wednesday 1:00-5:00 pm

Sunday 1:00-3:00 pm

By Appointment (email sarnoff@tcnj.edu)
Please note: we will be CLOSED Sunday July 3
---
This program is made possible in part by the Mercer County Cultural and Heritage Commission through funding from the New Jersey Historical Commission and the Mercer County Board of Chosen Freeholders.