We recently enjoyed a lively and informative visit from Mr. Carroll M. Haskell of Philadelphia, along with his middle daughter Jennifer Perry and several of their friends.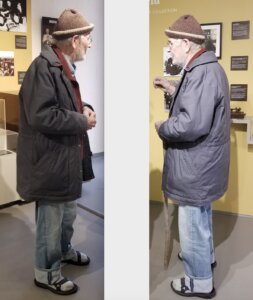 Back in 1956 – which suddenly seems like SUCH a long time ago – Haskell joined the small crew of David Sarnoff's newly-commissioned yacht Electron. A native of Maine and an experienced sailor, Haskell (left, in December 2022) was ostensibly hired as Sarnoff's waiter, but, gauged by the colorful tales he shared during his visit to the Sarnoff Collection, his responsibilities were broadly conceived and his resourcefulness invaluable. Haskell filled in on more than one occasion for absent or distracted crew, he helped expedite quick getaways from questionable dockside situations in Havana and Martha's Vineyard, and he served as a kind of chief of staff/bodyguard/ship's doctor to David Sarnoff's wife Lizette.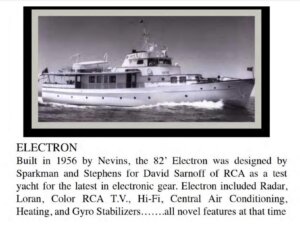 Haskell also contributed to the shakedown of a brand new vessel: Electron, as the forward-looking name (along with records such as this one detailing her design and launch) suggests, was full of recently-conceived devices and systems: people in the electro-mechanical or the water-borne-vessel arenas (not to mention those who dare to combine the two) will know all too well the difficulties involved in getting and keeping things working in these environments.
With that all said, Haskell's main focus was David Sarnoff, who, far from "getting away from it all," used the yacht as a venue for the performative leadership for which he was renowned. Here is Haskell describing one way his boss kept a step ahead of the competition (to listen click box at lower left of audio clip).
(Readers can be reassured that over the holiday the Sarnoff has conducted small controlled tests and can now confirm the claim that golden ginger ale – similar to standard ginger ale but with a slightly spicier/sweeter taste – appears (at least on dry land) indistinguishable from scotch whisky.)
In a slightly more serious vein, we are transcribing the entire recording of the wide-ranging conversation we had with Haskell during his visit, we hope to review some of his personal records from his time on the Electron, and we are planning to look at the ship's logs now in the Sarnoff Library Collection at the Hagley Museum and Library (https://www.hagley.org/research/programs/sarnoff-library-project/sarnoff-library-collections) in order to clarify and confirm the identities of the people and locations that came up during this visit.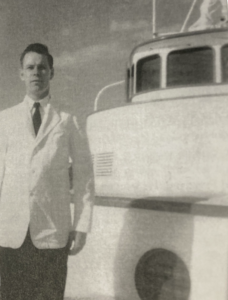 The Sarnoff is most grateful to Mr. Haskell (pictured here on Electron in 1956) and his daughter Jennifer for a delightful and illuminating visit.