Come visit us — the Sarnoff Collection at TCNJ is open to visitors!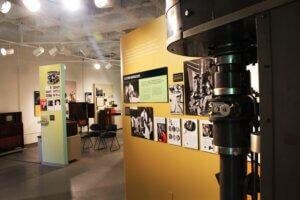 **Update: Please check us out on social media and please come see our Vinyl Videos and Innovations that Changed the World exhibits: we're open all summer long (excluding holidays) Wednesdays 1-5 and Sundays 1-3.
We are excited to announce that the Sarnoff Collection will now be open regular hours:
Wednesday 1:00-5:00 pm
Sunday 1:00-3:00 pm
The Sarnoff will be open Wednesdays and Sundays (except Thanksgiving week) through December 12.
---
Sarnoff exhibitions and events are free and open to the public. The College of New Jersey requires all persons on campus to wear a mask while indoors. The Sarnoff Collection at TCNJ is located on the second floor of Roscoe West Hall. Visitor parking is available at the entrance to Parking Lot 17 and on the circle in front of the Education Building.