A low tech phonograph to win the Cold War
---
 In a memorandum presented to the White House in April 1954, David Sarnoff presented a plan to win the Cold War. "We must," he wrote, "maintain our lead, and accelerate the tempo of progress," in everything from nuclear weapons and chemical warfare to "electronic know-how."[1] While RCA had a history of providing this type of expertise to the US government, a component of Sarnoff's plan to win the Cold War included something decidedly less technologically savvy. Alongside mobile TV units in both black and white and color, stronger broadcasting facilities to overcome Soviet jammers, cheap and lightweight receivers tuned to pick up American signals, he also suggested a propaganda phonograph, something low-tech and inexpensive to reach the "millions of persons in the world who do not have electrical power receptacles, electron tubes, batteries, or any of the electrical and mechanical marvels which the free world has and takes for granted."[2] RCA produced a prototype of this device, a plastic phonograph that could be mass-produced for a mere 50 cents, and which was meant to be distributed with "an unbreakable and intelligible record, made of cardboard and costing less than a bottle of Coca Cola. […] Such records could be dropped from the sky like leaflets and the messages they carried could not be jammed."[3] Not only could their signals not be jammed, but they could also reach people who were illiterate and for whom leaflets would have not have been intelligible.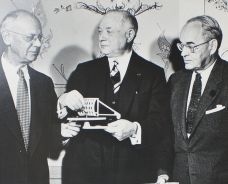 RCA manufactured a prototype of the device the following year, and it received a great deal of press. The idea had already been made public in the July 1955 issue of Radio Age, RCA's internal magazine, and the device was officially unveiled in November 1955 in New York City, at the Overseas Press Club of America.[4] The invention garnered a great deal of publicity in the following few months. A spread for the week in review for the November 21, 1955 issue of Life magazine prominently displayed a photo of a young boy operating the device at the Press Club and told its readers that the US may manufacture and airdrop the apparatus in critical areas to spread propaganda (and to give a sense of the object's cultural importance, on the next page, readers learned of Rock Hudson's marriage to Phyllis Gates).[5] Other periodicals released more information about the phonograph over the next few years. A short piece about it in the January 1956 issue of Popular Science gave some more specifics about the instrument: that it was made of a plastic base, turntable and tone arm, and could easily be dropped by parachute, and that it took plastic (rather than cardboard, as Sarnoff first intended) 78-r.p.m 7-inch disks, easily produced for a nickel a piece.[6] So too did Popular Mechanics, which featured it in their October 1956 issue.[7]
In his memorandum to the US government, Sarnoff argued that countermeasures to combat what he saw as the threat of communism had to, at times, be unconventional.[8] However, the propaganda phonograph proved to be too unconventional. Although the United States Information Agency did express an interest in it, in the end, the device never went beyond the prototype stage.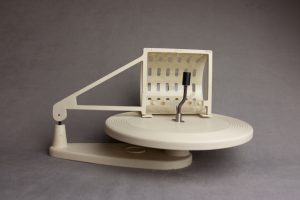 Text by Florencia Pierri
Sources:
[1] David Sarnoff, Program for a Political Offensive against World Communism (April 5, 1955).
[2] Ibid., 30.
[3] Ibid., 30-31. Cardboard records already existed as novelties that sometimes came as the treat in children's cereal boxes.
[4] For a photograph of this, see S.353.3, David Sarnoff Demonstrating Propaganda Phonograph at a meeting of the Overseas Press Club, 1955.
[5] "A Look at the World's Week," Life, Nov 21, 1955, 44.
[6] "Fifty-Cent Phonograph May Pierce Iron Curtain," Popular Science, January 1956.
[7] "Propaganda Phonograph Takes a Parachute Drop," Popular Mechanics, October 1956.
[8] Sarnoff,  4.