Radio, radio in the hall, what's the fairest speaker of them all?
---
In the early 1920s, radio manufacturers were keen to get radios into American homes, but not just into any room of the American home. Radios in the first decade of the twentieth century were industrial-looking things, and radio was a hobby mostly pursued in the basement. The easiest way to bring electronics into the living room was, of course, to make electronics a part of household furniture.
In February of 1923, RCA first unveiled its consumer products for that year in the pages of The Saturday Evening Post, and it really drove home the point that RCA had its sights set on entering all American living rooms. Not only was there a Radiola for every price point, the advert read, but "these modern products make experience unnecessary. They are beautifully made, fitting into the decorative arrangement of every home."[1] In 1923, radios were no longer the sole concern of amateurs with electronics backgrounds, but household staples.
1923 was also the year that RCA began to sell its first upright horn speaker, the UZ-1320. The 1320 was the first of several RCA upright horn speakers, but it was followed a year later by the much cheaper (and not much different) UZ-1325. That speaker, produced until the end of 1926, was the last horn-type speaker that RCA made, and the Radiola 25 was the last receiver that had the option of a horn-style speaker.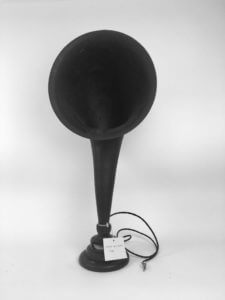 In 1925, RCA debuted the Model 100 series of loudspeaker to replace the UZ line horn-type speakers. These speakers used a cone-type design rather than the horn-type speakers that had been used in phonographs and radios up to this point. While more expensive than the latter, the cone-type speakers offered better tonal range and louder volume, and made the horn-type speakers obsolete virtually overnight.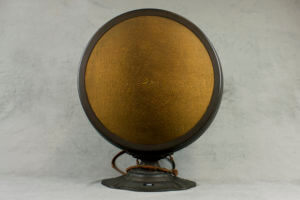 The first of the cone-type speakers was the Model 100, a distinctly electronic-looking speaker, but in 1928, RCA introduced the Model 103. Anything that belied its mechanical nature was covered in wood or silk— it had a wooden frame instead of the metal of the Model 100, and the speaker portion was disguised by a tapestry of flowers in a vase in the front, and a silk covering in the back. This made the 103 not just a speaker, but a piece of furniture that would not have looked amiss in the early 20th century home. This, coupled with radios in attractive wooden cabinets, helped bring radios out of basements and into American living rooms.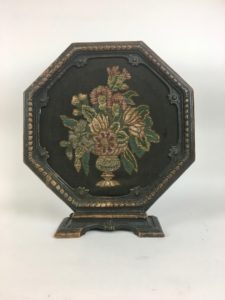 Text by Florencia Pierri
[1] "Radiolas for Every Home in 1923," in The Saturday Evening Post, February 3, 1932, pp. 90-91.