Let's play some mind games…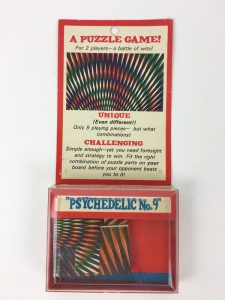 In 1969, a new game appeared on the shelves of stores all over the country— Psychedelic no. 9. It was a puzzle game, with the modest price tag of just a dollar, and an addition to the manufacturer Cadaco's already large line of dollar puzzles.[1] The game's developer was Joseph Weisbecker, a computer engineer at RCA Laboratories who also dabbled in puzzles and board games in his spare time. This wasn't Weisbecker's first mass-produced game, and neither was it his first game for Cadaco. That slot went to Decisions! Decisions!, a game profiled in Sid Sackson's second edition of Gamut of Games, a book that showcased what he considered to be the most unique games on the market.[2] Decisions! Decisions! was a good seller for Cadaco, but unfortunately, Psychedelic no. 9 was not.
After a year of lackluster sales, Cadaco informed Weisbecker that not only were they pulling the game from the market, but that they also still had several thousand unsold units in their warehouse.[3] Also, while Cadaco had been considering licensing another of Weisbecker's games in April 1969, after it became apparent that there was no market for his brand of puzzles, he was unable to convince the company to give any other of his games a shot.[4] In the end, Weisbecker purchased six dozen of his own games, and although he did try to interest other licensees to produce them, unfortunately, Psychedelic no. 9 did not get a second shot at the mass market, and four dozen of the six dozen remained in Weisbecker's garage until they were donated to the David Sarnoff Library, from which the Sarnoff Collection acquired them in 2012.
So, how does one play Psychedelic no. 9? And why is it so psychedelic, anyway? It's a puzzle game for two players with two individual game boards and nine puzzle pieces with a psychedelic pattern of greens, reds, and whites. Each player chooses any puzzle piece from among the nine and places it on her game board. The first player to get three puzzle pieces to completely cover her board with only three puzzle pieces wins the game. If a player has three pieces on her board already, but has not covered it completely, she must return it to the pile before taking another one. The aim was to both complete the puzzle, and to keep your opponent from winning.[5]
Was this game fun? Well, you can decide for yourself! Come to the Sarnoff Collection and visit our new exhibit, Playing with Innovation: The Games of Joseph Weisbecker, which not only has several of his games on display, but also some of the games (and replicas thereof) themselves! Will the psychedelic pattern get the best of you, or will you defeat your friends in the game of Psychedelic no. 9?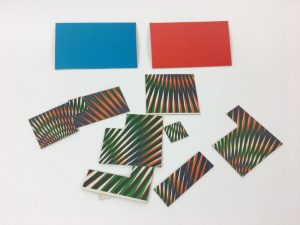 Text by Florencia Pierri
[1] Letter from Douglas Bolton to Joseph Weisbecker, December 11, 1968, Hagley Museum and Library, David Sarnoff Research Center Records, 2464.09, record group 11, series VII, box 870, folder 4.
[2] Sid Sackson, A Gamut of Games (New York: Random House, 1968), p. 209.
[3] Letter from Douglas Bolton to Joseph Weisbecker, March 12, 1970 and February 12, 1969, Hagley Museum, Sarnoff Records, box 870, folder 4.
[4] Letter from Douglas Bolton to Joseph Weisbecker, April 2, 1969, Hagley Museum, Sarnoff Records, box 870, folder 4.
[5] "Psychedelic no. 9 playing instructions," Sarnoff Collection, S.226.81.